Daniel (Danny) Boulet
danny at BouletFermat.com
danny at Matilda.com
danny at Obtuse.com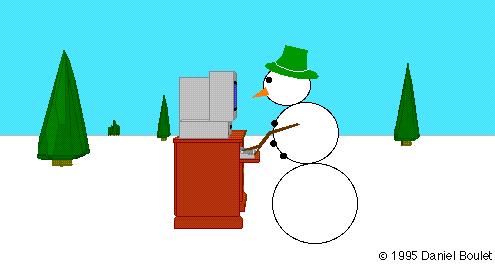 :)Diana
To experience the 'net as it was intended to be . . .
Success
"To laugh often and much, to win the respect of intelligent people and the affection of children, to earn the appreciation of honest critics and endure the betrayal of false friends, to appreciate beauty, to find the best in others, to leave the world a bit better, whether by a healthy child, a garden patch, or a redeemed social condition; to know even one life has breathed easier because you have lived. This is to have succeeded!"

- Ralph Waldo Emerson
On the need to keep flying . . .
The recent (2001/09/11) atrocities in the U.S. have resulted in a fairly dramatic drop in air travel. It seems to me that we need to keep a few things in mind:

The current situation isn't going to get any better anytime soon. As such, unless one is willing to spend the next few years avoiding airplanes, there is really little point in avoiding air travel while "waiting for things to get better".


I'm not convinced that it is suddenly more dangerous to fly. Rather, what has changed is our understanding of the dangers of flying. The nature of the 2001/09/11 atrocities clearly demonstrates that there are inherent terrorism-related dangers associated with air travel and that these dangers have been present for quite a while. Nothing has changed except for our understanding and perception of the risks of air travel.


Even in the face of the risks exposed by the 2001/09/11 atrocities, air travel is still a very safe mode of transporation (i.e. it is far safer than travel by car).


With the possible exception of better cockpit doors and the increased use of air marshalls, none of the measures which have been introduced or which have been discussed would have prevented the atrocities of 2001/09/11 (I say "possible" because I'm not sure if an airline pilot can be reasonably expected to keep the door locked once the hijacker starts murdering passengers and flight attendants so I'm not convinced that the better doors will work).

What has changed is that an attempt to repeat the 2001/09/11 atrocities will almost certainly result in a revolt by the passengers (as seems to have happened on the flight that crashed in Pennsylvania). Since the terrorist(s) do want to succeed, it is reasonable to assume that the next attacks will be different.


If we stop flying then the terrorists have won.


If even a fraction of the new anti-terrorism laws that have been proposed in Canada, the U.S. and overseas since 2001/09/11 get passed then the terrorists have won (i.e. they've succeeded in making permanent negative changes to our way of life).

A few comments are probably in order:

I live in Canada and have taken numerous trips to Europe, Asia, other parts of Canada and the United States since the 2001/09/11 atrocities.


We need to make sure that the anthrax incidents or terrorist threat "warnings" don't deter us from travelling or going about our daily lives either. They certainly won't affect my willingness to travel anywhere in the U.S. or pretty well anywhere else.


There are places in the world that I won't travel to. For example, I'm not particularily keen on traveling to places in which the rule of law doesn't apply and some places are just too dangerous for my tastes (Afghanistan and parts of Africa and parts of the Middle East come to mind).
Frequently Asked Questions
News
Most of the contents of this page has been moved to here. My surfing links are here.

Check out Fetch (my new search engine).
Personal Information
I graduated from the University of Alberta in 1979 with a BSc (Honours) in Computing Science. I like to read and I'm interested in all sorts of things including science & technology, SCUBA diving, photography, history and, of course, computing. I'm married and have one child.

My resume is available upon (legitimate) request. In case you're wondering, I'm not currently even vaguely interested in switching jobs . . .

From a technical perspective, my areas of interest include:

seeking and managing topsight
transferring knowledge to others
applying computing technology in creative ways to solve interesting problems

Bias alerts:

I'm a Canadian who thinks that Canada is the best place in the world to live (I'm also realistic enough to know that most people in the free world believe the same thing about their country).


I've been using Unix for over twenty years and can't see the attraction in running flashy software that breaks all the time. I've got a brand-x PC which has been running Berkeley Unix since 1992 and has crashed for unexplained or flakey-operating-system related reasons less than ten times since I bought it - i.e. if anybody tells you that PCs are flakey, suggest to them that it probably isn't the hardware that is flakey . . .


I've been a Mac fan since the day that I first saw one running in a local computer store WAY back in January or February of 1984. My laptop is an Apple Powerbook although Apple Canada's customer support policies are so atrocious that this is probably my last Apple laptop. I'm still a Mac fan and believe that Apple has made and continues to make some very interesting products but I just can't justify buying products from a company that treats its customers like dirt.


Some of the things that I also believe in:



freedom of expression including the freedom to say things that I don't agree with (excluding expression which incites hatred or harms people (eg. violations of Canadian hate, libel and slander laws))
the absolute necessity of the rule of law and the freedom of the press in any truly democratic society
Canada's publicly funded health care system and the importance of avoiding any hint of a two-tier system
free enterprise
multiculturalism
Canada's official bilingualism policy
the fundamental difference between truth and wishful thinking (and the immutability of the former and the flexibility of the later)
the absurdity of attempting to legislate morality
Bigotry
Does anybody really believe that if Jesus or ANY of the other major religious figures of the past were walking this earth today that they would be attacking:

people with AIDS
homosexuals
blacks
jews
natives
poor people
etc

Additionally, does anybody really believe that any of these religious figures would be supporters of the bigots who do attack these people?

Nuf said.
Links to some of my other pages
Diversions
Less Frequently Asked Questions
What's a 0-8-2 punch?
What do Acanthaster Planci eat and what eats Acanthaster Planci?
What is an RPR timeout?
Where is Trabuco Oaks?
Who is Stompin' Tom Connors?
Canadian Inventions
I realize that this will come as quite a shock to some of the folks to the south of me and even to some of my fellow Canadians but Canadians have managed to make a few important inventions/discoveries over the years. Here's a list of some of them:

1796 - John Mcintosh (not Macintosh) develops the Mcintosh Apple.


July 24, 1874 - Henry Woodward and Mathew Evans file their Electric Light Patent for an electric light bulb, five years before Thomas Edison's 1879 patent.

Some have claimed that the Edison light bulb was more advanced than the Woodward and Evans bulb but the reverse is actually the case. Woodward and Evans's bulb was filled with nitrogen, a relatively inert gas which won't react with the carbon filament in the bulb. In contrast, Edison's design called for the bulb to contain a near perfect vacuum. Today, modern light bulbs of more than about 40 watts contain a mixture of gases which are selected because they are relatively inert (argon and nitrogen being the most common).

Thomas Edison later purchased an interest in the Woodward and Evans patent, a pretty strong indication that Edison felt that the Woodward and Evans light bulb patent was a threat.

It should be noted that Sir Humphry Davy, an English chemist, produced light using electrically heated strips of platinum in 1802. The problem was that the strips quickly burned out but the race was on and inventors around the world joined in. Later, in about 1860, Sir Joseph Wilson Swan, an English physicist, used carbon filaments in an evacuated glass bulb to produce light. Unfortunately, the filaments quickly burned out due to air in the bulb and the bulb wasn't particularily efficent. Swan did produce an apparently successful light in 1878 put didn't patent it in time.

Source: a photocopy of the Woodward and Evans patent and a photocopy of an undated article from EUREKA! magazine (reprinted from the Toronto Star).


1874 - Alexander Graham Bell develops the principle of the telephone while visiting his parents in Brantford, Ontario, Canada. Bell discloses the invention of the telephone to his father at the family home on the outskirts of Brantford on July 26, 1874 and the first functioning telephone is demonstrated in Boston in June of 1875. The first well documented telephone transmission takes place in the U.S. on March 10, 1876.


February 8, 1879 - Sir Sandford Fleming (1827-1915, knighted in 1897) explains his idea of standardized time zones to the Canadian Institute for the Advancement of Scientific Knowledge in Toronto.

It should be noted that Dr. William Hyde Wollaston (1766-1828) is generally given credit for coming up with the idea of standardized time and, primarily due to the influence of the railroads, Britain switched to a single time (i.e. standardized time) in 1848. Fleming's idea was essentially equivalent to Wollaston's but extended it over a large enough geographical area to require the notion of time zones in addition to the idea of standardized time.


December 23, 1900 - Reginald Aubrey Fessenden demonstrates his invention of radio by transmitting the world's first voice message - "One, two, three, four". The first extended transmission of human voice occurred on December 24, 1906 when Fessenden transmitted voice, poetry and music to ships in the Atlantic.


1908 - Peter L. Robertson invents the Robertson Screwdriver. A nearly perfect test of Canadian citizenship is to show someone a square-headed screwdriver and ask them what it is. Unlike the rest of the world (which refers to it as a square-headed screwdriver), almost all Canadians will call it a Robertson screwdriver. Unlike other then existing screwdrivers (the Torx screwdriver, developed more recently by General Motors is similar), it is trivial to balance a screw on the head of a Robertson screwdriver and equally trivial to tighten the screw without worrying about the screwdriver slipping out of the head of the screw. Personally, I never buy any other kind of screws if I can possibly avoid it.


1914 - Reginald Fessenden invents Sonar and tracer bullets.


1919 - Sir Alexander Graham Bell invents the hydrofoil near Baddeck, Nova Scotia.


1922 - Dr. Frederick Banting and his student Charles Best discover Insulin and use it to treat diabetes. Banting received the Nobel Prize for Medicine for his discovery. Prior to insulin, a person with diabetes had a life expectancy of only a few years. With insulin, a diabetic person can live for many years. The disease still causes a gradual deterioration of health which can eventually result in death.

Also in 1922, Walter Rupert Turnbull invents the variable pitch propeller.


1925 - Edward Samuel Rogers invents the amplifying radio tube.


August 10, 1949 - The first commercial jet transport plane in North America flies in Toronto. (this was two weeks after the first such flight in the world).


March 25, 1958 - The Avro Arrow, probably the most advanced fighter jet of the time, flies for the first time. For reasons which are still shrouded in mystery, the program was cancelled on February 20, 1959 by Prime Minister Diefenbaker's Cabinet and a mostly successful attempt was made to destroy everything related to the project including plans, parts, then existing aircraft, etc.

The Arrow demonstrated many innovations including fly-by-wire. Many believe that the plane was probably at least a decade ahead of the competition. The cancellation of the Arrow project was an act of sheer stupidity (or very short sighted thinking) which permanently damaged if not crippled Canada's aircraft industry.


1960 - William Shaw invents the IMax projector. Also in 1960, Jaques Plante invents the ice hockey goalie mask and Stephanie Kwolek invents Kevlar.

References:
Snobol4 and Spitbol
Snobol4 is a language that came out of Bell Labs many many years ago. I first encountered the language in 1976 and was blown away by the string and data structure handling capabilities of the language. Spitbol is essentially Snobol4 on steroids (faster, more features, etc).

Recently, I came across www.snobol4.com, a site which is run by Catspaw, Inc. (a company which has been making commercial versions of Snobol4 and Spitbol for a while now). They have a freely available C-language port of Snobol4 that seems to run on every modern Unix system on the planet. Just to give you a sense of history, this port is based on the 1975 implementation of Macro Snobol4 from Bell Telephone Laboratories, Inc. This is an old language yet it has features which simply aren't available in so-called modern languages (for example, I've never seen a language that could even come close to Snobol's string pattern matching facility).

If you're interested in having a look at a very unusual programming language, check out Snobol4 (warning - the language syntax is pretty strange).
Daniel Boulet
---



http://www.bouletfermat.com/danny/